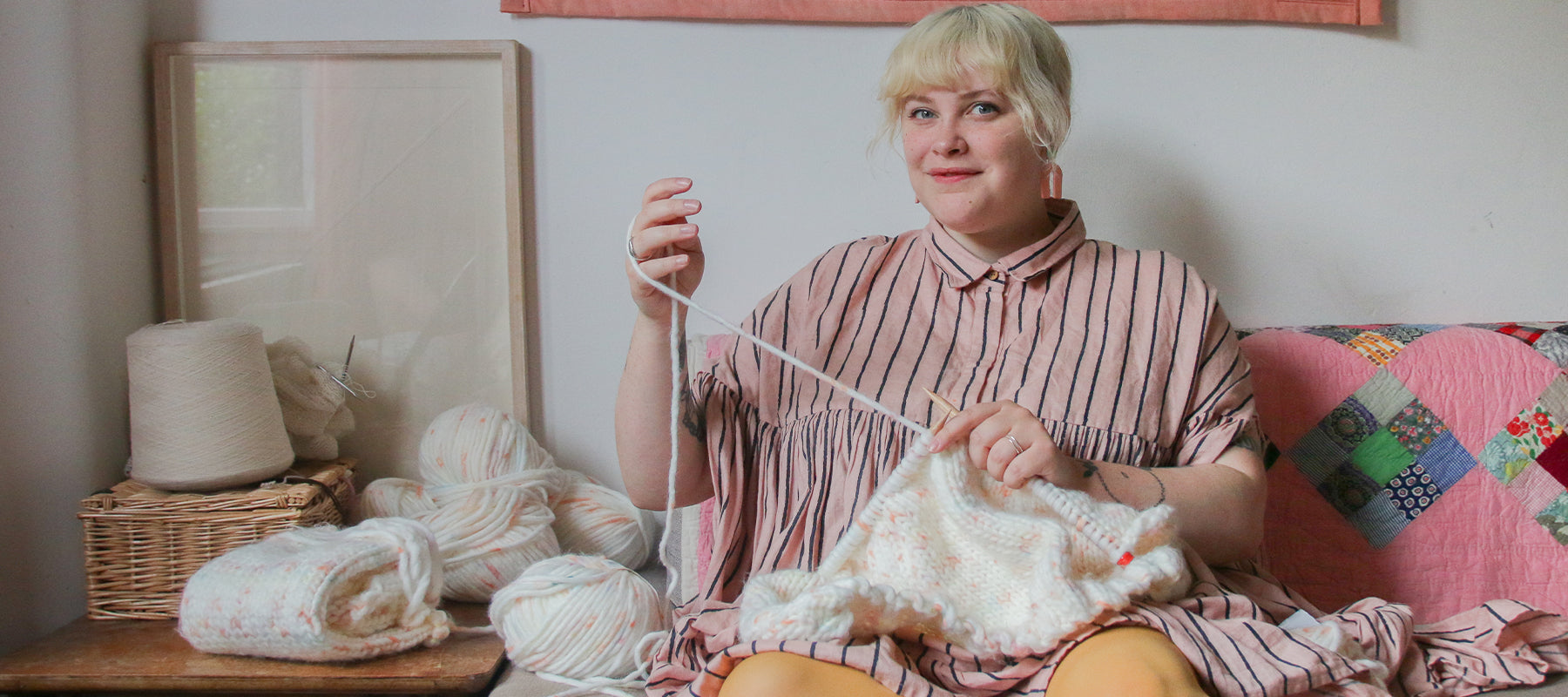 Jolie and Me by Lydia Morrow
Guest Post | 2 min read time
Read about Lydia's experience knitting with the Jolie yarn, and how she made our patterns her own.
Exploring the Jolie Yarn and Pattern Collection
Earlier this year I had the pleasure of getting to test out the new Jolie yarns and patterns before their release. I've never been able to sample a product pre-launch before, so I had to not get over-excited, but the yarns were so squishy and lovely I couldn't help it! Using 3 of the beautiful colourways, I made 3 pieces from the collection.
The Yarn
I'm big into speckled yarns, especially ones with a white base, so this collection feels like it was made for me! My favourite colourway is the super-bright rainbow speckle. I also discovered if you're working in the round and alternate yarns with each row, you can use two at once to create your own custom speckle which opens up so many possibilities.
The Patterns
When I started my first project, there was a bit of a learning curve with my tension. I don't have much experience working with super chunky yarns, so it took me a minute to adjust. Once I did however, it was so satisfying making big, thick, stitches and watching the patterns work up so quickly! The fibre felt soft and lovely in my hands, and didn't bother my skin like some other acrylic yarns do. The yarn feels like something I'd turn to for keeping a bit of a luxury feel if I had a custom knitwear client who was allergic to wool. I love how the loose twist gives it this fuzzy, woolly texture, and a halo that I haven't seen before in an acrylic yarn. 
I never seem to end up following patterns to the letter, I love mixing and matching, and customising the pieces as I go. With these projects I ended up making a few tweaks and changes to make my garments more wearable. I think it's really good to learn how much of an impact making small adjustments can have, giving yourself space to play. For the cuffs on the sleeves of my jumper I used really small circular needles to get a super cinched cuff and make the sleeves look even more dramatic. More subtly, I adjusted the lengths of my garments to suit my style and brought up the necklines by using smaller needles and adding a few more rows.
Lately, I've been really into knitting super-straightforward stocking stitch patterns. They are so meditative and simple, but it doesn't mean you can't add even more intrigue if you want. For my knitted top I decided to use some scrap yarn and the duplicate stitch embroidery technique to add a design of the word 'MORE' to the front. What's fun is that adding this design didn't affect the pattern at all and can be totally removed later if I'm feeling keen to mix it up with new imagery.
The pieces I made are super comfortable, cosy, and great for layering up with. I'm so pleased to have them in my rotation this winter!
About Lydia Morrow
Lydia is a fashion clown, disabled mum, and lifelong knitter who likes to make all of the things! She graduated from Glasgow School of Art in 2017, had a baby 4 months later, ran an underwear business for about 3 years, designed a lot of knitwear, got too sore for sewing, and is now working on being a jack-of-all trades. She is passionate about ethical fashion and social justice, especially fat liberation. She is inspired by weird vintage graphics, bright colours, comics, and illustration.
Follow @whatlydiamade on Instagram.
Which playful Jolie pattern will you be making? Share your photos with a community of crafters on Instagram and Facebook.