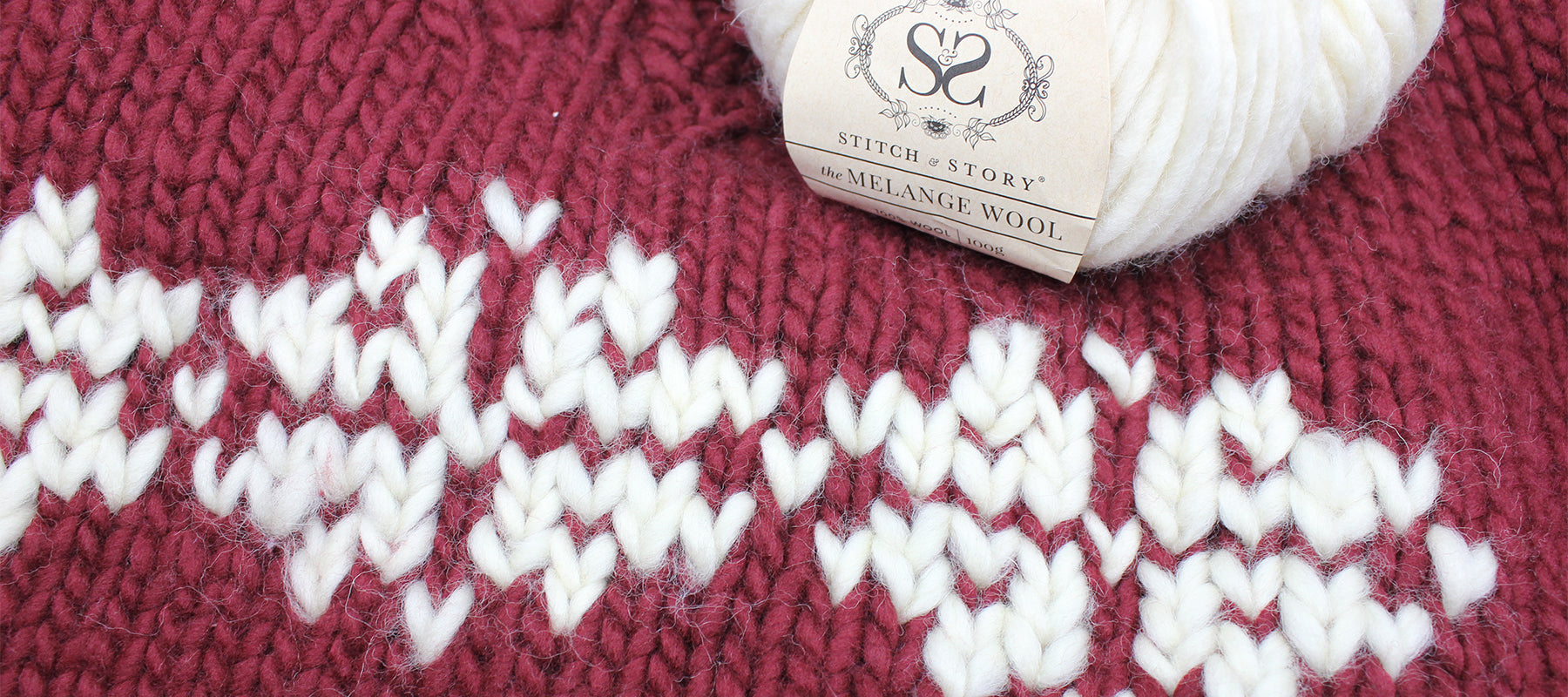 How to Swiss Darn your Knits
Knitting | 1 min read time
We'll show you how to revamp your knitted wardrobe with some scrap yarns and a sewing needle!
The Swiss Darning Technique
Also known as 'duplicate stitch', this technique is an easy way to breathe new life into your garments, and use up your yarn scraps. You can swiss darn over any stocking stitch knit - so get creative and revamp your scarves, sweaters, cardigans, hats, and more!
You will need:
A stocking stitch knit
Scrap yarn (preferably matching the yarn thickness used in your knit)
How to Swiss Darn
Swiss darning is done by sewing yarn over your existing knit stitches. To create your design, you can follow a pattern chart, or make your own! We've got a few festive charts here to help get you started:
Step 1
Thread your needle with an arm's length of yarn - if you use a piece that's too long, there's a chance it might break or get tangled up while you're sewing!
Step 2
Find your starting point using either a pattern chart, or your own design. This will be a knit stitch, which looks like a V shape, and you'll begin at the bottom of the V. Bring your needle up through the base of the stitch from the back of your work, leaving a tail of about 6cm to weave in later.
Step 3
Thread your needle under the 2 strands of yarn in the stitch above, and gently pull through. Be careful not to pull your yarn too tightly, or you won't be able to see your design clearly!
Step 4
Complete the stitch by inserting the needle through your starting point, and pull the yarn through.
Work your way along the rows and columns of stitches, following your pattern. 
Whenever you come to the end of a length of yarn, leave a tail of 6cm on the back of your work, and secure it with a knot, then weave the end into the stitches. This will make sure your design doesn't come undone.
How did you do? Show off your swiss darning with a community of crafters on Instagram and Facebook.