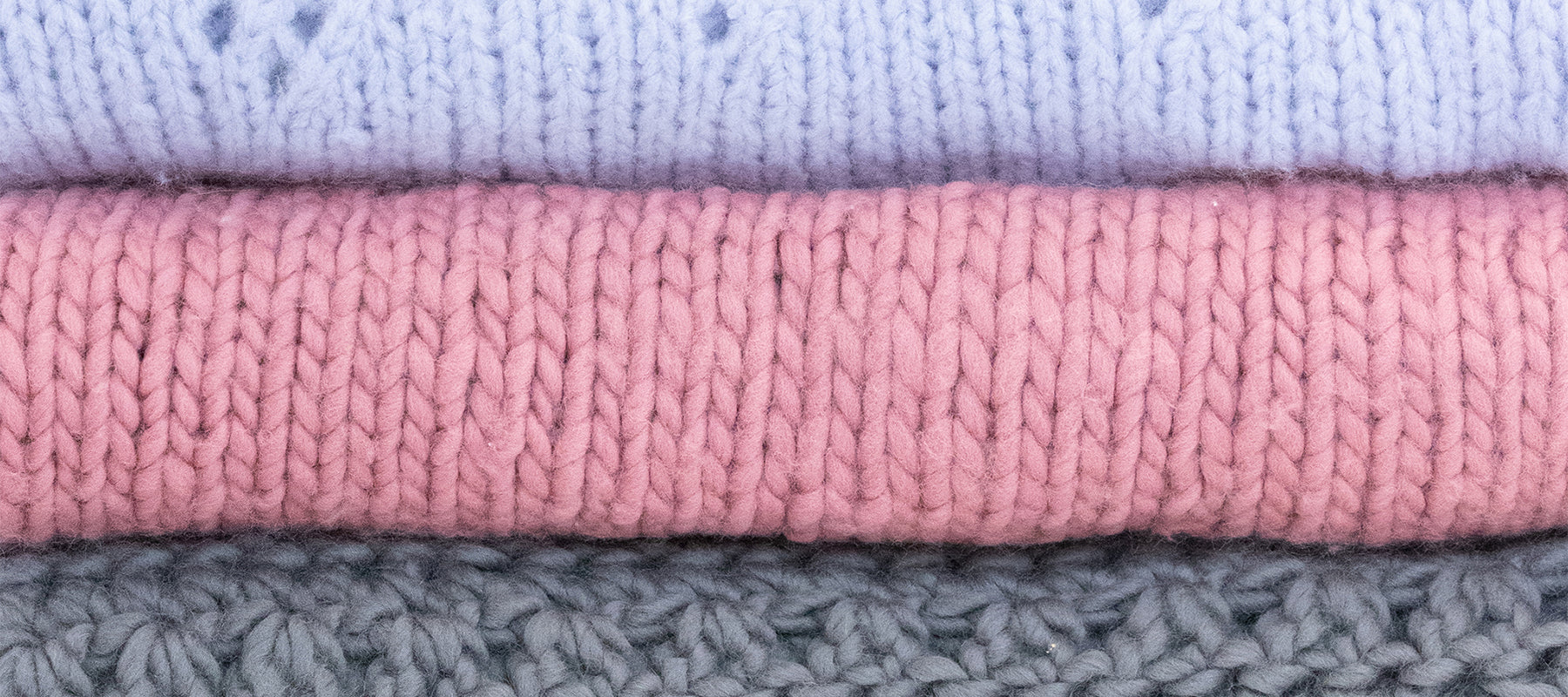 You've mastered the basics, now find out how to get started on your very first sweater.
Sweater and cardigan knitting patterns for beginners
A knitted sweater or cardigan is a must-make for most crafters, and a staple in any handmade wardrobe, but where to begin? We've put together a list of simple steps to get you from kit to finished knit, along with pattern recommendations perfect for sweater first-timers.
Learn the basics
Our sweater patterns start at an Advanced Beginner level, so we would definitely recommend making one or two of our beginner knitting kits and learning the basic techniques. Why not start with the Grazier Scarf knitting kit?
Choose your kit or pattern
Ready to get started? Here are some suggestions we think will be perfect for you:
High-Neck Sweater
This sweater is knitted using our scrumptiously-soft chunky wool, and uses basic shaping techniques, making this a great sweater for those looking to take on the next challenge in their knitting journey. 
Belle Mock Neck Sweater
Two panels, two sleeves - that's all you need to make a top! This is a wide-neck top with bell-shaped sleeves, worked in stocking stitch from the bottom up. You'll learn how to read a pattern with multiple sizes to knit the panels, then we'll show you how to sew them together.
Cara Mid-Sleeve Sweater
With a relaxed silhouette and round neckline, this cosy sweater is created with shallow set-in sleeves for ease of movement, and a fun high-low style for a relaxed fit.
Looking for something a little more challenging? Here are a few patterns that use more complex techniques such as colour changes, and pattern repeats:
Roma Striped Sweater PDF Pattern & Yarn Bundle
A slouch-fit sweater, perfect for both curling up at home with a good book, and heading out for exciting adventures. We shouldn't pick favourites, but this one's a close first. Don't forget your 12mm knitting needles!
Verona Lace Cardigan PDF Pattern & Yarn Bundle
Unwind your mind (and yarn!) as you create from the comfort of your sofa. Then wrap up in your newly-knitted Verona Lace Cardigan as you enjoy your morning coffee, or an evening glass of wine! Don't forget your 12mm knitting needles.
Venezia Cable Sweater PDF Pattern & Yarn Bundle 
Intricate, stylish, and luxuriously cosy - this sweater pattern ticks all the boxes. Expand your knitting knowledge, and learn techniques such as Cable Stitch, to create the newest addition to your wardrobe. Don't forget your 12mm knitting needles and cable needle!
Master the stitches & techniques
Need a little help? Check out our tutorial videos for the stitches and techniques used in your patterns, and if you have any questions, you can get in touch with our team at hello@stitchandstory.com
Show us your progress!
Share photos of your sweater success with a community of crafters on Instagram and Facebook.