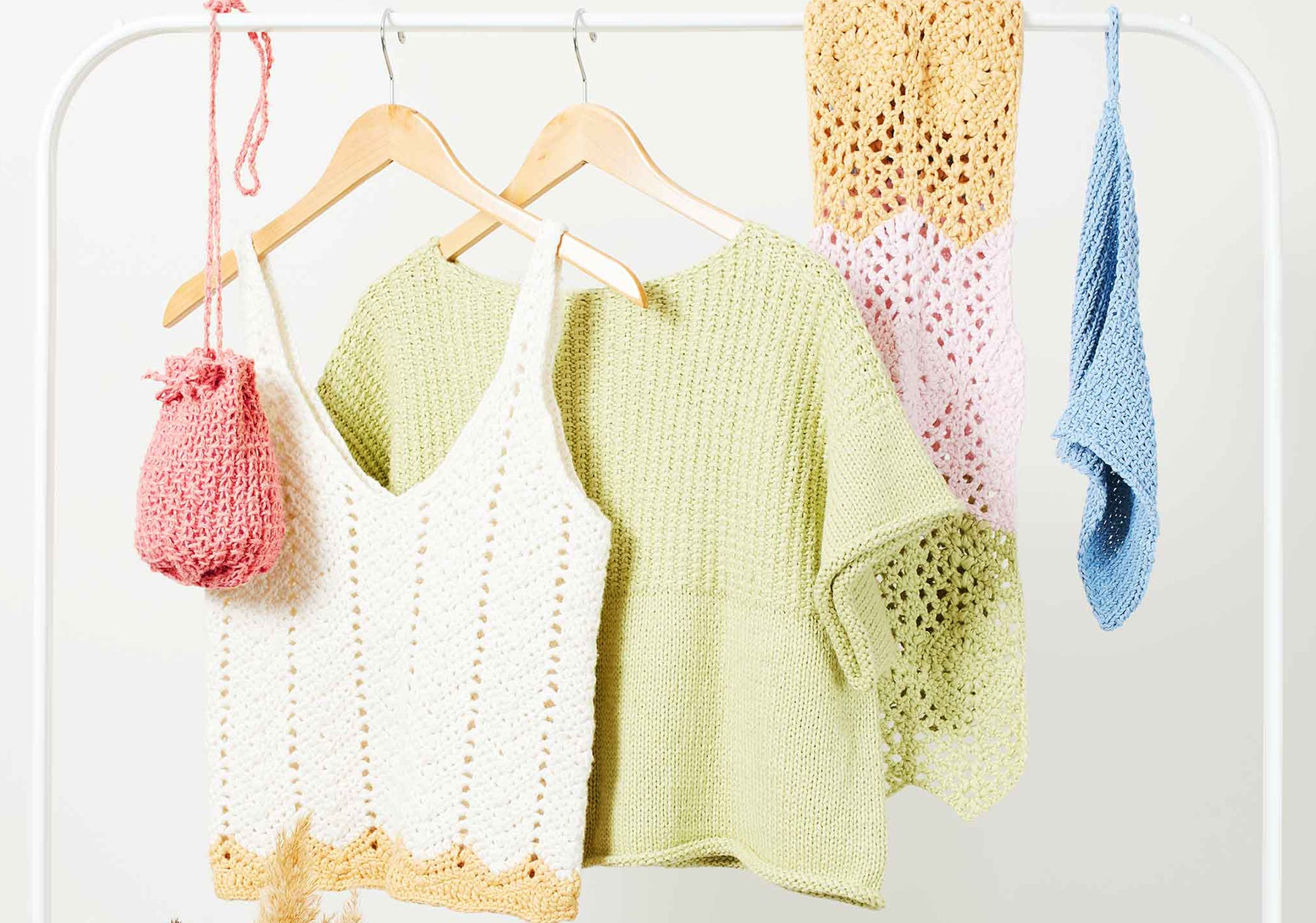 9 Patterns Perfect For Summer
Crochet | 1 min read time
Our top knitting and crochet patterns for a sunny, handmade wardrobe.
9 Knitting and Crochet Patterns for Summer
This summer, step outside in something special. We've picked our favourite knitting and crochet patterns to help take your wardrobe from 
I've got nothing to wear
 to
where did you buy that?
  You'll feel a rush of joy when you tell people, "I made this!" 
Summer Jute Tee
This knitting pattern will keep you cool and looking stylish at your next picnic. The loose-fit, and softness of our Cotton Braid yarn, make for a comfortable combination in warmer weather.
Crochet Zigzag Bag
Step out, arm in arm, with a bag so chic, you'll find a multitude of reasons to go shopping! Download the pattern, and buy the Everyday Jute yarn to get started. 
Verona Lace Vest
Team this beautiful vest with your favourite shorts or skirt, for a look that's ready for adventure. Made in the ultra-soft Woolmere Luxe, the cashmere blend will keep you cool in warmer weather.
You'll also save 15% when you buy the
PDF pattern and yarn bundle
!
Lucca Bucket Hat
Get festival-ready with a modern take on the classic bucket hat. Bed hair or not, you'll never want to take it off. Crochet your own with our all-in-one kit.
Spring Easy Scarf
Grab your sunglasses, and head out for a slow stroll wearing your Spring Easy Scarf. It's a lovely, quick knit!



Chevron Spring Camisole
A cute vest for sunny getaways. Get inspired to level-up your crochet game with the pattern, and buy the Cotton Braid yarn to make it super soft.
Springtime Motif Blanket
From camping trips to park picnics, this blanket is perfect to roll up and bring along to every outing. Download the pattern, and get the Cotton Braid yarn to start crocheting your own!
Jute Drawstring Bag
Your essentials will fit nicely in this little bag, allowing you to keep your hands free for holding ice-creams and cold drinks! Download the knitting pattern, and shop the Everyday Jute yarn to make your own.



Chevron Motif Scarf
A pretty, pastel way to stay warm on chilly evenings while you catch up with friends. Made with the Cotton Braid yarn, choose your perfect colour combination, and download the crochet pattern to get started.
Show us how you wear your summer makes! Join our community of crafters on Instagram and Facebook.