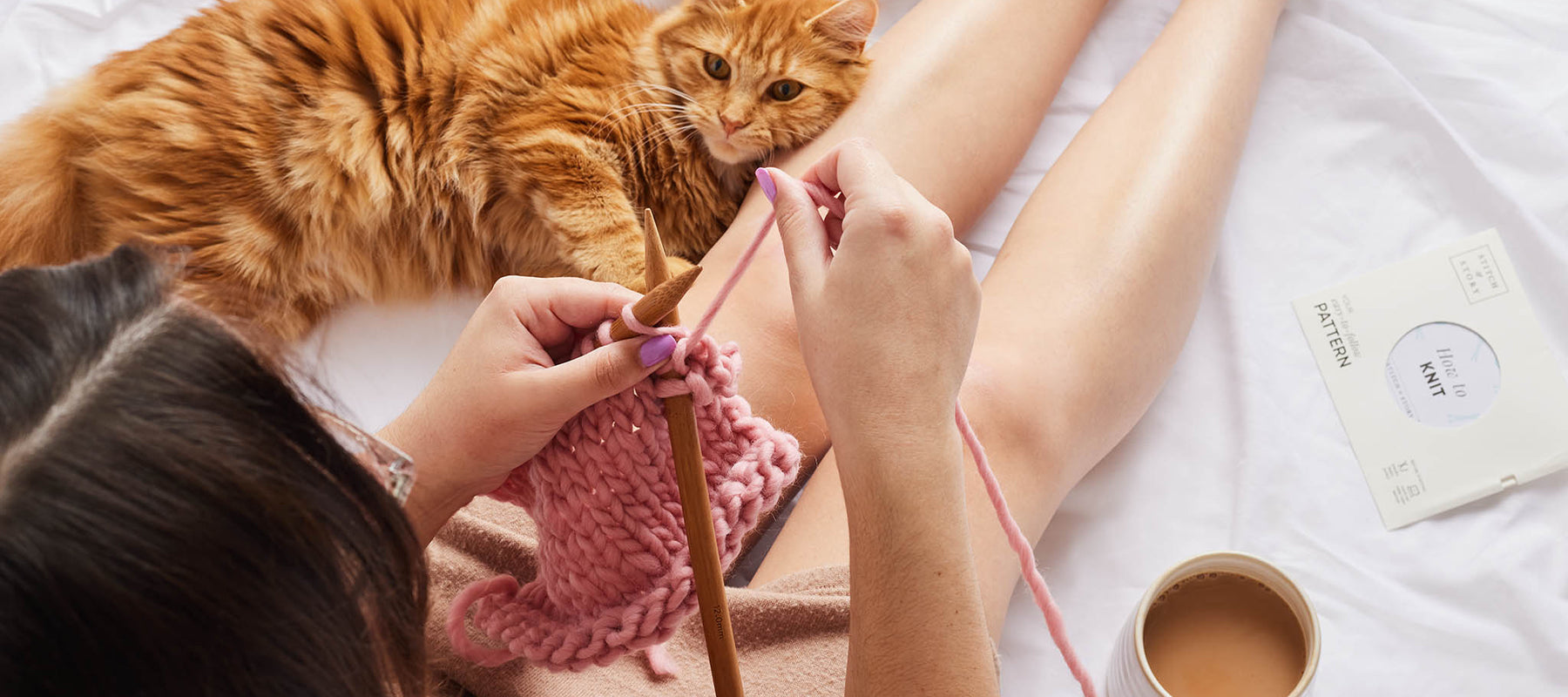 The Perfect Gifts for Crafters: Knitting and Crochet Kits
Crochet | 2 min read time
We bring you 10 must-have kits from our super-handy gift guide.
Knitting and crochet gifts for crafters
Treat yourself, or the crafter in your life, to a new creative journey! We've put together a selection of our favourite kits, with some irresistible savings, making it the perfect time to stock up on gifts and stocking fillers. 
Kits for beginners
Grazier Scarf
A perfect pattern for someone new to knitting. This kit will help you learn the basics of knitting: how to start, the knit stitch, and how to finish. You'll get used to holding the needles, and how to move the yarn, and with chunky yarn, you'll have a cosy scarf in no time.
Shop the kit
Knitters of Tomorrow
Inspire the next generation with this child-friendly knitting kit. It covers all the basics needed to help someone start their knitting journey: how to begin, the knit stitch, and how to finish. Broken down into "lessons", the guide takes a step-by-step approach to learning to knit, and includes instructions on how to make a hat or a scarf.
Shop the kit
Kits for fashion lovers
Napoli Crochet Beanie
Settle down and enjoy the slow rhythms of crocheting in the round. Each stitch will bring you a step closer to keeping your ears toasty on chilly morning walks. Add a pom pom for the perfect finishing touch.
Shop the kit
Luca Pom Hat with Ivory White Pom Pom
Easy to knit up, this hat has a swirl pattern and is the perfect throw-on hat for keeping warm! You'll have a woolly hat to wear in no time and the contrasting big pom pom adds a fun, finishing touch.
Shop the kit
Roma Striped Beanie
This bold beanie is so soft and warm that you'll look forward to chilly days, just so you can wear it! You'll also learn new techniques such as knitting in the round, colour changes, and how to make a pom pom for the perfect finishing touch.
Shop the kit
Chunky Cable Headband
Looking for a quick knit? This stylish headband is the best project for a quick knit and learning how to cable. Perfect for those who want to keep warm but don't like wearing hats!
Shop the kit
Freya Fingerless Gloves
Practical and beautiful, this is a classic knitters' project. Learn to knit these fingerless gloves the easy way. Knitted flat, you'll be shown how to make the thumb and work short rows, all explained in a simple-to-follow pattern. It's the perfect pattern to knit as gifts or for keeping yourself toasty warm whilst you're out and about.
Shop the kit
Kits for the home
Bounty Throw
Everyone needs a woollen throw to snuggle into! Our Bounty Throw is the perfect homeware accessory to add charm and warmth to any interior. The pattern is knitted whole with the pattern divided into easy-to-follow sections so you can stop and start at any time.
Shop the kit
Skye Tassel Throw
Layered over a sofa or the end of your bed, the Skye Tassel Throw is perfect for adding soft texture to your home, with tassels providing a contemporary twist.
Shop the kit
Lola Pom Slippers
Knit, throw 'em on, and relax. They're that easy. Our Lola Pom Slippers Knit Kit is aimed at giving new knitters a stress-free knitting experience, this kit contains everything you need to get started and learn the basic knitting techniques!
Shop the kit
Don't forget!
If you ever find yourself in need of a helping hand, we have knitting and crochet tutorials to guide you through each stitch, and a been-there-made-that team of crafting experts ready to answer your questions. Get in touch at hello@stitchandstory.com
What will your next project be? Share your photos with a community of crafters on Instagram and Facebook.