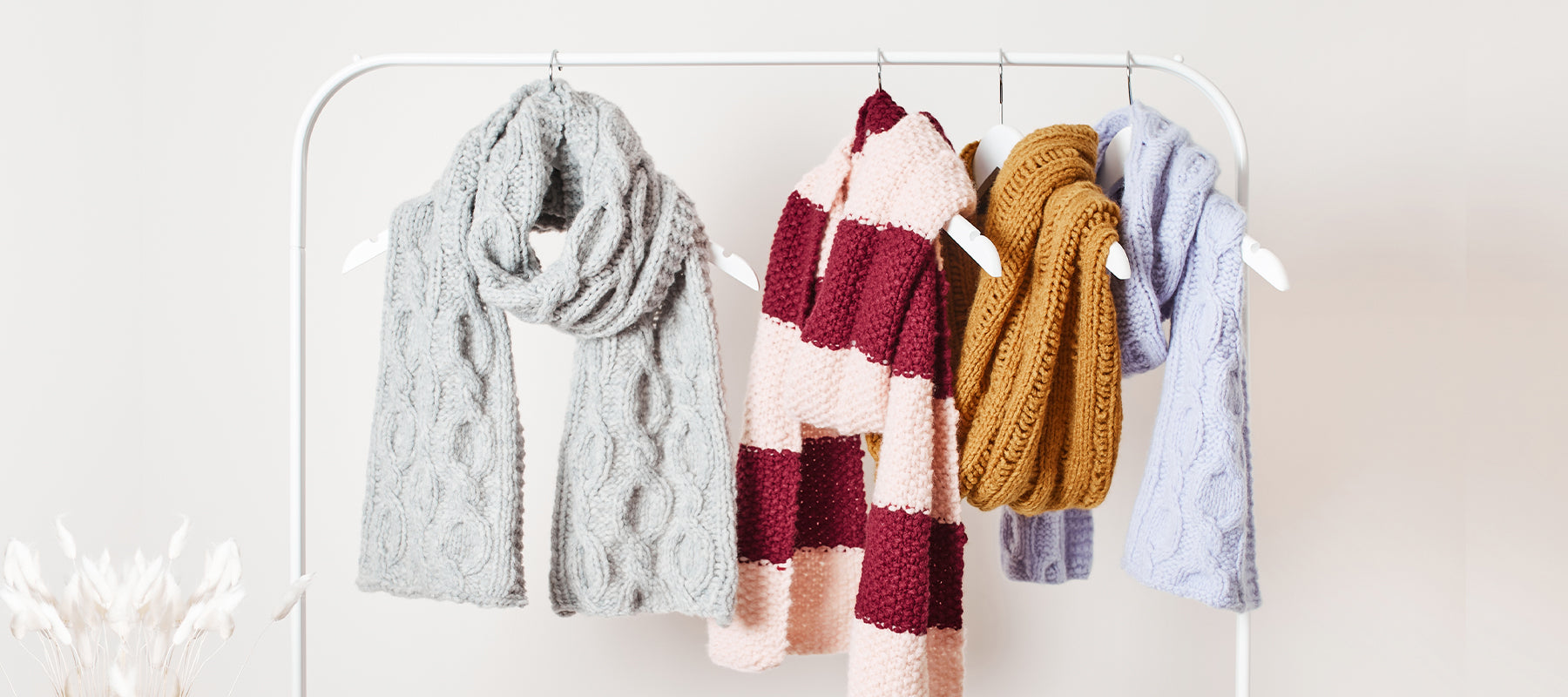 The Ultimate Winter Warmers
Crochet | 2 min read time
Kits and patterns guaranteed to keep you toasty. The cold never bothered us anyway...
Knitting and crochet patterns to keep you warm this winter
Create something cosy for your home, and your winter wardrobe. We've picked out some of our favourite kits and patterns to help get you started!
Patterns for blankets and throws
The winter warmers begin at home! Get that homemade hygge feeling with our blanket kits and patterns.
Roundabout Patchwork Throw
Part of our Feature Throw Collection - knit up this blanket and 3 others in one handy e-book to have your choice of comforter when you settle down on your sofa.
Patterns for jumpers and cardigans
Wrap up when you step outside for your next adventure. A sweater always feels a little warmer when it's handmade.
Tag Crew Sweater
Brighten up your selection of knits, and make it look cute! The Jolie yarn's speckles make this crew-neck sweater anything but boring. 
Lemuria Collared Sweater
This long-sleeve sweater has a beautiful, ribbed collar that drapes over your shoulder. This is an easy-to-wear, throw-over-anything kind of sweater for those wanting something a little different.
Atlantis Cable Sweater
Every winter wardrobe needs a cable knit classic! Take your knitting skills to new heights with this textured challenge, and enjoy the feeling when you tell people I made this!
Avalon Raglan Cardigan
Easy to knit, and equally easy to wear, this subtly textured cardigan can be thrown over any outfit to keep the chill at bay.
Verona Lace Cardigan
Unwind your mind (and yarn!) as you create from the comfort of your sofa. Then wrap up in your newly-knitted cardigan as you enjoy your morning coffee, or an evening glass of wine! 
Patterns for accessories
Add an extra, cosy layer to your outfit with this selection of kits and patterns.
Siena Infinity Snood
A snood that feels as good as it looks, thanks to the combination of an eye-catching design and the irresistibly-soft Woolmere Luxe yarn!
Hopscotch Crochet Scarf
The playground classic has been given a crafty interpretation! Jump from square to square with this simple pattern, and before you know it you'll be wrapped up warm, wearing your scarf out and about.
Patterns for dogs
We couldn't leave out our four-legged friends! Make them their very own sweater and they'll be the talk of the dog park.
Knitted Bubble Pet Sweater
Here's a fun, lightweight jumper that's great for keeping your dog cosy, and for adding a splash of style to walkies! This pattern is available to knit in a range of sizes to ensure a nice, snug fit for dogs both large and small. 
Cloudy Day Crochet Pet Sweater
This pattern is made for a snug fit, and is available to crochet in a range of sizes, for everything from lap dogs, to big dogs that think they're lap dogs! 
What have you knitted to keep you warm this winter? Share your photos with a community of crafters on Instagram and Facebook.