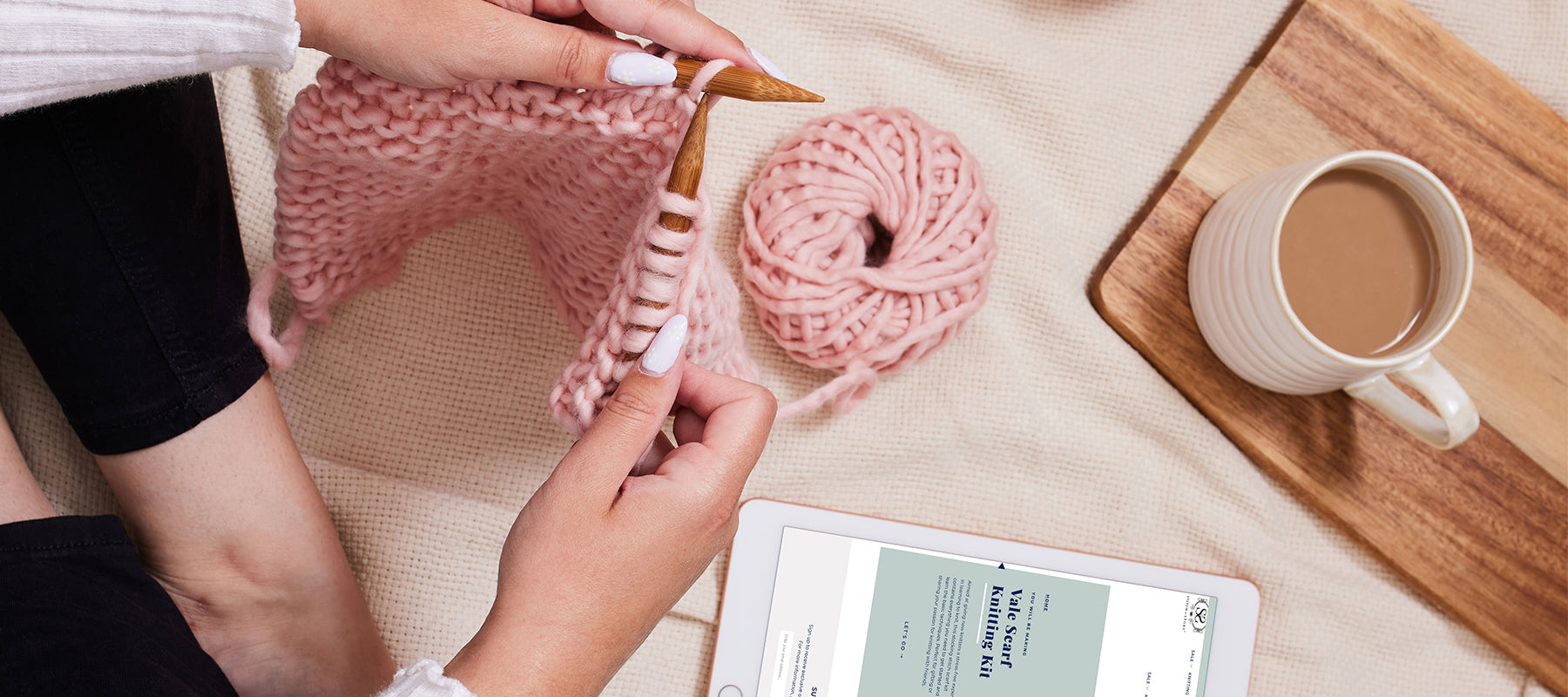 Crafting for Beginners: Kits & Projects
Crochet | 2 min read time
Find the right project for you and start your craft-filled journey.
If you're picking up a craft for the very first time, welcome! Stitch & Story are here to help make crafting simple, and build your confidence stitch by stitch. We've picked out some of our favourite cross stitch, knitting, and crochet kits to help get you started.
Cross Stitch for Beginners
Once you get started, you'll find cross stitch is easy to pick up, and too enjoyable to put down!
What skills will I learn?
In every kit you'll find a handy cross stitch guide that will show you how to set up your hoop and fabric, and how to sew the different stitches you'll need to bring your chosen design to life.
Cross Stitch Kits for Beginners
Find Your Club Collection
You'll be able to sew off who you are with our club kits, featuring 6 original designs that are all about finding a common thread with other makers, as well as the characters you connect with. We love the Self-Care Club kit.
Shop the collection
Knitting & Crochet for Beginners
If you're picking up a pair of knitting needles, or a crochet hook, for the very first time, let's get you started with a beginner knitting or crochet kit, and take a closer look at what you'll learn while you're working on your very first project.
What skills will I learn?
Beginner Knitting Kits
Knitters of Tomorrow
This child-friendly kit covers all the basics needed to help someone start their knitting journey, whether you're supporting a child, or discovering this new craft together.
Get the kit
Grazier Scarf Knitting Kit
This kit will help you learn the basics of knitting: how to start, the knit stitch, and how to finish. You'll get used to holding the needles, and how to move the yarn, and with chunky yarn, you'll have a cosy scarf in no time.
Get the kit
Beginner Crochet Kits
Clematis Crochet Quilt PDF Pattern & Yarn Bundle
Crochet your very own field of flowers with this quilt pattern. You'll learn how to create 5 different granny square designs, and how to block and sew them together - then it's up to you to find the perfect spot to curl up under it! Don't forget your 5mm crochet hook.
Get the bundle
Knitting & Crochet for Advanced Beginners
Build on the skills you learned as a complete beginner, and pick up a few new ones as an advanced beginner. These kits are also great if you are making a long-awaited return to crafting, and would like to brush up on the basics. We're sure it will all come flooding back, and your yarn will be rolling away once again!
What skills will I learn?
Advanced Beginner Knitting Kits
Easy Slumber Socks PDF Pattern & Yarn Bundle
Learn to knit your own super-cosy bed socks the quick way. Our Easy Slumber Socks pattern is aimed at giving new knitters a stress-free knitting experience and uses basic knitting techniques. Don't forget your 8mm knitting needles!
Get the bundle
Mateusz Snood
In this pattern, you'll learn how to alternate knit and purl stitches to make moss stitch. Using just 2 balls of The Chunky Wool, this snood knits up quickly, and is a great choice if you're a beginner looking for your next project.
Get the kit
Advanced Beginner Crochet Kits
Skye Tassel Crochet Kit
Create your very first crochet blanket with this Chunky Wool kit! This kit contains everything you'll need to take your crochet skills to the next level, and to make the perfect addition to any rooms in your home.
Get the kit
Need a hand?
Our mission is to make crafting simple, and provide everything you need to work on your new project. We have tutorial videos for knitting, crochet, and cross stitch to guide you through every stitch, and a team of been-there-made-that crafters on hand to answer any questions you might have - just drop us an email on hello@stitchandstory.com
Share photos of your progress with a community of crafters on Instagram and Facebook.