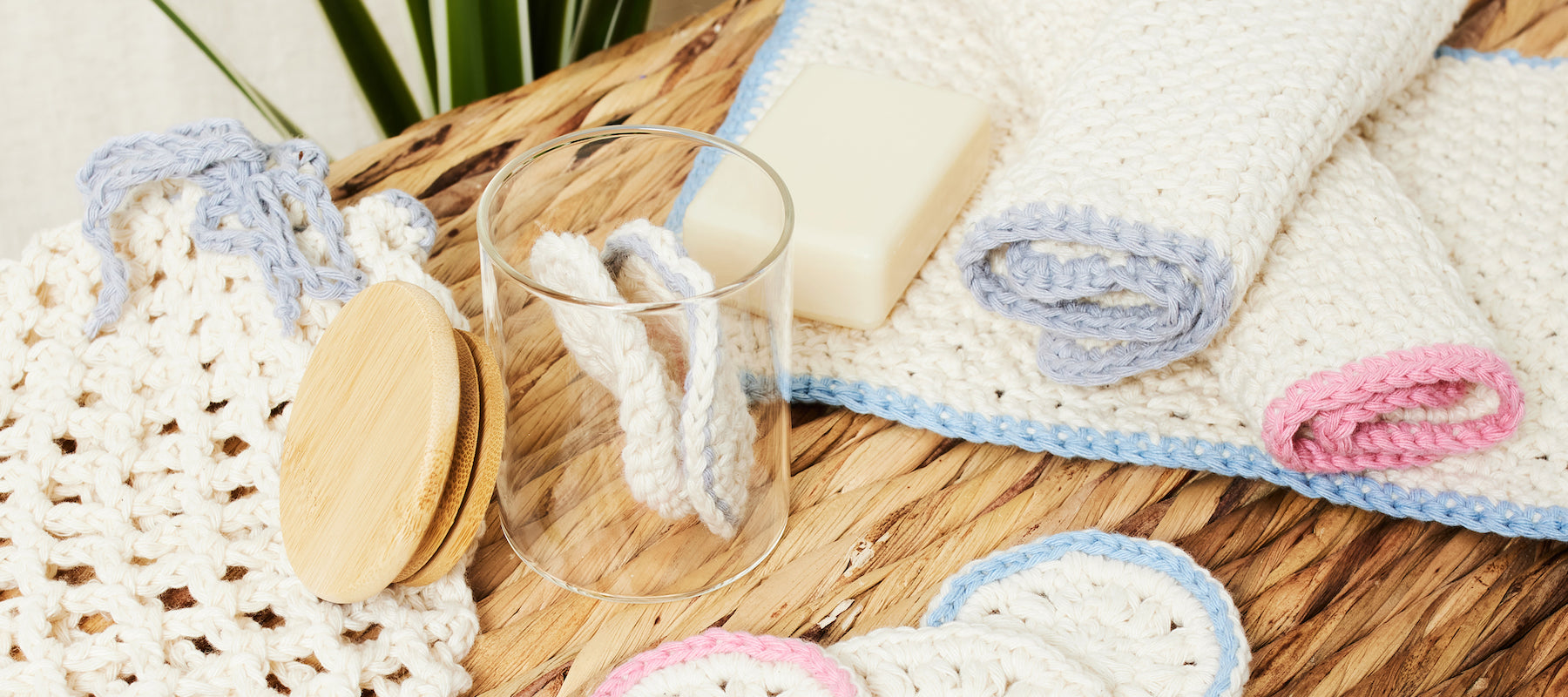 8 Eco Projects to Replace Everyday Items
crochet | 1 min read time
Eco Washcloth Set
Go eco-friendly and build on the crochet basics with 3 washcloth designs in 1 PDF pattern! You'll add Moss Stitch, Waffle Stitch and Textured Stitch to your repertoire with our easy-to-follow instructions. 
Eco Cotton Pads & Pouch
Replace your disposable face pads with something more-lovingly handmade. You'll be taking a small step to a greener lifestyle, and enjoying the crafting journey along the way.
Sands Drawstring Bag
Here's a bag that would fit in just as well at the local market as it does at the beach. Choose a colour-combination that's perfect for you, and crochet your own using the Everyday Jute yarn. You'll use crochet skills such as working in the round, changing colours, and tapestry crochet.
Simple Tea Towel
We didn't think it possible to enjoy drying the dishes, until we put our newly-knitted tea towels to use! Get that warm, fuzzy feeling with this free pattern to make your own homeware. Spread the joy - why not make a few and tie them in a bundle for a thoughtful housewarming gift?
Jute Drawstring Bag
Your essentials will fit nicely in this little bag, allowing you to keep your hands free for holding ice-creams and cold drinks on hot, sunny days. Expand your skills by learning knitting techniques such as the jute stitch, and how to make a strap and drawstring using a crochet hook. You've got this in the bag.
Summer Market Bag
Ditch the carrier bags and take pride in filling your eco-friendly, handmade bag with treats from your local market! It's the perfect opportunity to expand your crafting skill set - learn how to knit the jute stitch, and create i-cords for strappy, yet sturdy, handles.
Crochet Zigzag Bag
Step out, arm in arm, with a bag so chic, you'll find a multitude of reasons to go shopping! Learn how to work into the back loop, and use tapestry crochet to bring this striking design to life.
Sennen Garter Stripe Bag
Ready, set, stripe! Your essentials will get from A to B in the most stylish way. Knits, purls, and colour changes are all the skills you need to create a bag that's bold, and textured.