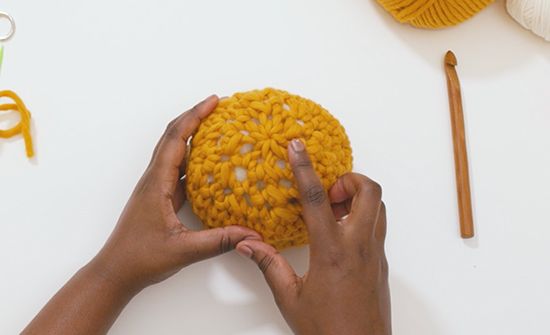 Amigurumi: Drawstring Closure
Finish Off | 1 min read time
Tutorial Overview
In this video you'll learn how to work a drawstring closure. You can use this technique to close a round of crochet stitches in projects such as amigurumi or the crown of a hat.
Watch
Step-by-step guide
Step 1:
Once you have finished the final row, or round, of your pattern, fasten off your last stitch and cut a long tail of yarn.
Step 2:
Thread the yarn tail through your sewing needle, then carefully pick up the front loop of each stitch.
If you are working in the round, pick up the stitches in the same direction you crocheted.
If you are working in rows, start by picking up the front loop of the first stitch at the opposite end of your yarn tail.
Step 3:
Once you have picked up all the front loops, gently pull the needle through and tighten the yarn to close the gap in the centre.
Step 4:
Secure your yarn by weaving the tail into the wrong side of your project, or the inside of your amigurumi.
< See all Crochet Video Tutorials