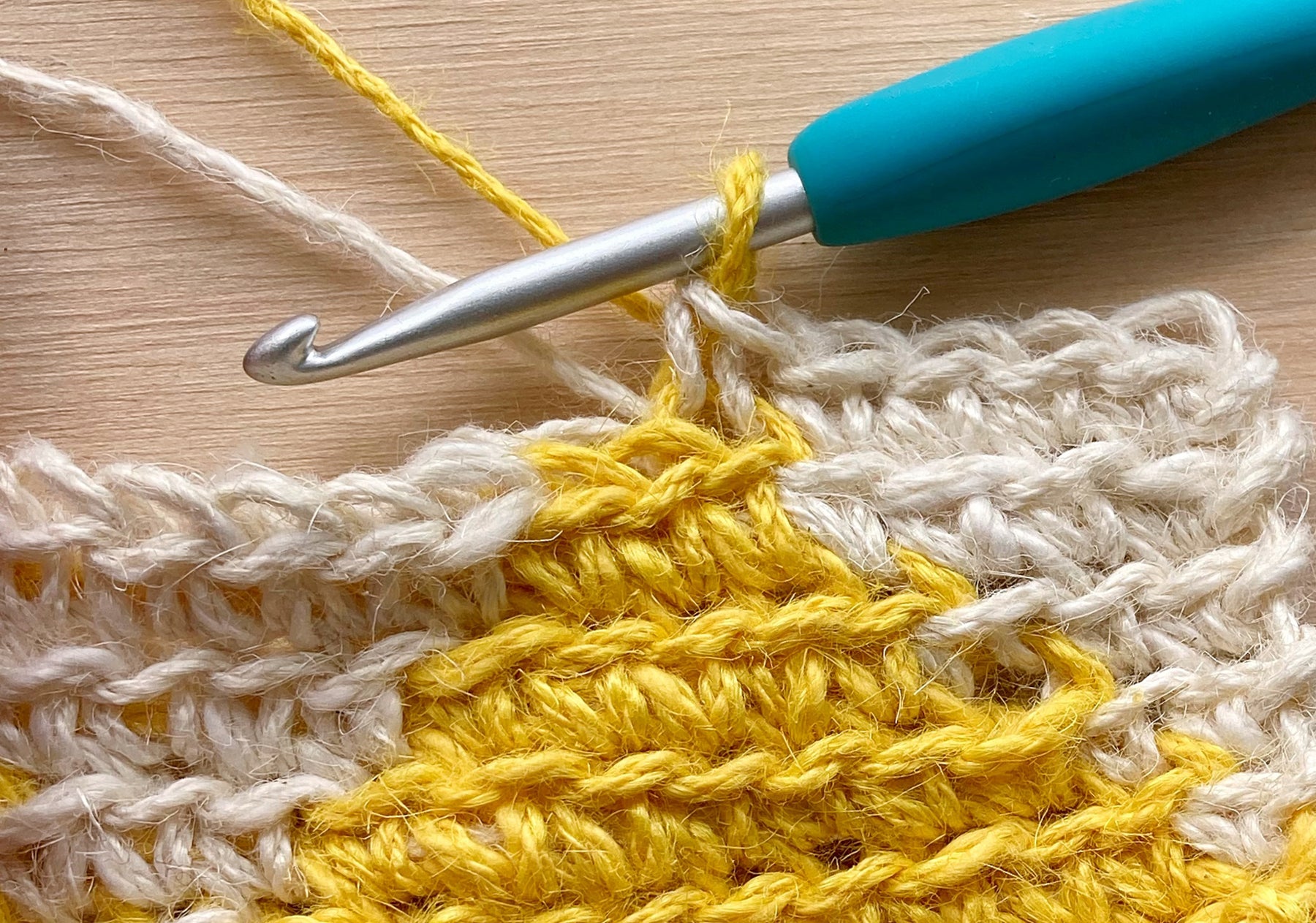 How to do tapestry crochet
Crochet | 2 min read time
Learn how to do tapestry crochet using this easy, step-by-step tutorial by Claire Montgomerie.
How to do tapestry crochet
Tapestry crochet is a technique that allows you to work multiple colours at a time, across a row, to create a pattern. It's like the crochet equivalent to Fair Isle in knitting, but is slightly different, as it doesn't leave strands of yarn 'floating' along the back of your work.

It might sound tricky, but if you can change colour, and have ever tried weaving in your ends as you go, the process will seem extremely simple!

This technique is used in some of my free Natural Spring Collection crochet patterns.
Following pattern charts
As with most colourwork techniques, the pattern is made by following a chart, on which each square symbolises one stitch. Pattern charts are read from the bottom upwards, in the same direction that you create the fabric. If you're working in the round, you follow each row of the chart from right to left. But if you're working flat, you follow all odd rows from right to left, and work all even rows from left to right.
Changing colour
The only rule you must stick to when working in tapestry crochet is to always join the new shade of yarn into the last stitch of the old shade. This will ensure your colour changes stay nice and neat.
Top Tip: Try to hook with the working yarn in the front of the work, and unused yarn at the back as this aids the crispness of the colour, and prevents twisting of the yarn.
Step 1
On the first row of tapestry crochet, following the chart, work the first shade until the last stitch of the section, and then work the last stitch until the final step.
Step 2
Change to the new shade by pulling the contrast yarn through the loops left on the hook.
Step 3
Continue working with the new shade, making sure your stitches are made around the previous shade. To do this, hold the previous shade of yarn on top of the stitches from the row below.
Repeat these steps when switching colours for the rest of your pattern chart.
Top Tip: Give the non-working yarn a gentle tug occasionally, to ensure it stays hidden.
About Claire Montgomerie
Claire is a textiles designer, specialising in knitting and crochet for over 15 years. After studying at the Royal College of Art, she pursued a career in the fashion industry, but found she enjoyed the more practical side of textiles. While creating her free crochet patterns for our Natural Spring Collection, she was inspired by the Eco Cotton, Cotton Braid, and Everyday Jute yarns, and wanted to use colourwork to show off their properties. 
Follow Claire on Instagram @clairemontyknits